Category Archives:
Reflections
Today was all about sessions. There were just SO MANY! It made my head spin. Luckily I had already registered for at least 1 a day before I got here and figured I hop into a lecture session during my time. I heeded the advice of my grad school friend Kyle in his blog and didn't fill my day with sessions. I hit three and by the time the 3rd one was over I was ready to call it a day.
I LOVED the first session I attended, Crowdsourcing ISTE: A Dynamic Model for Collaboration Inside and Outside the
From Star Wars UncutClassroom.  The presenters,  Tzvi Pittinsky and Sue Waters were engaging and excited to be there,Tzvi face-to-face and Sue via Hangout. You could tell they really loved what they were presenting and they got me totally bought in by starting off with something Star Wars, which anyone who knows me will tell you is the way to my heart, my absolute favorite thing to geek out on.
And it wasn't just a gimick.  They presented a few minutes of Star Wars Uncut: The Empire Strikes Back. It was really the essence of what they were talking about, crowdsourcing. The project of a web developer, it invited people from all over the world to submit 15 seconds of their homemade version of Empire and then it was edited all together, full length.
I'm excited about the idea of building a libary of knowledge on a subject by gathering resources from many different people. I would like to get my students crowdsourcing notes and projects in the upcoming school year and it's really as easy as each student making a slide for a Google Slides Presentation.
After a short break, browsing the expo floor and swinging through the tech playgrounds and lounges I headed to my next session, which turned out to be filled, so I started looking around me at what was open in that same area and I stumbled upon a session called,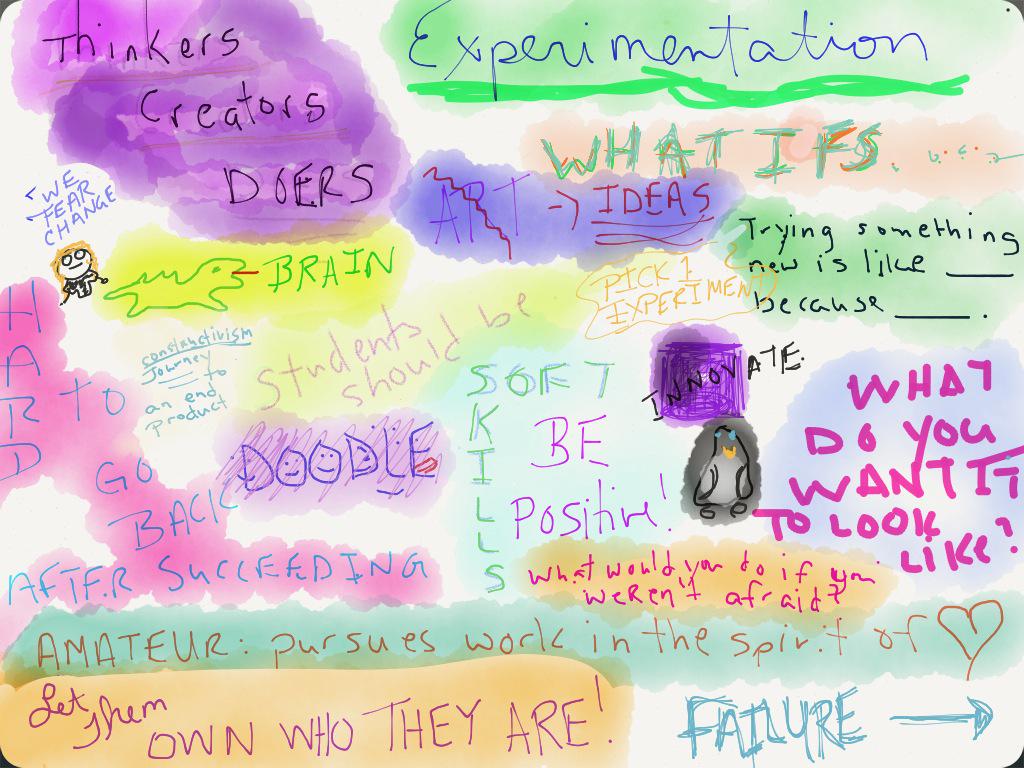 My sketch notes. The Possibility Posture: Designing for Experimentation in Modern Learning.  Ironically this session was all about how I already choose to teach and how I try to inspire the teachers I coach to teach. I enjoy constructivism (mostly because I learn by doing.) and allowing my students to try new things on their own and find what works best to get to an end product. The very first 5th grade class I ever taught, the theme for that class was that failure is good, learn from your failures. The prenters showed how experiementation can bring about fantastic reults and that building from failure helps us learn.  This was also the session I decided to try sketch notes using Paper by Fifty Three on my iPad in earnest. Little did I know, part of this session was the introduction of sketch notes. It was really quite a serendipotous hour.
I found my final session of the day through a chat on Twitter with another of my classmates from grad school, Danielle. She told me she was hitting up a session on online and blended learning, OLN Presents: 2015 ISTE Online and Blended Learning Extravaganza, so I met up with her. This session was structured like the Ignite Sessions that ISTE had scheduled throughout the conference, so we were able to see 8 presentations on 8 different topics in an hour. This was one of those times that I may have only learned 1 or 2 new things, but a couple of the presentations were about ideas for projects for my school that I have toyed with in the past few months and it was very validating to see that I'm on the right track mentally and it was also very valuable to see how other people brought similar ideas to fruition.
Looking forward to tomorrow and EdTech Karaoke!
I've been reflecting a lot on my teaching experience over the last 10 years, going from teacher's aide to technology integrationist so I'm sharing.
It's interesting how my position, my job has grown, and how for the first time in the five years I've been working in instructional tech, it's finally coming together.
5 years ago I taught "computer" part time 3 days a week and in doing that I realized that there my school could do so much more in terms of using technology as a tool. At this point the students were learning how to make a PowerPoint and how to use MS Word and playing "educational" games and it just wasn't translating into a quality learning experience. They knew how the programs worked, but we're not given the proper context to put there knowledge into action, they were regurgitating knowledge and just using PPT to make it look fancy.
With the realization that there had to be more for my students and having a passion for technology in general, I set out for a masters degree in instructional tech.
During my studies I started to put some of the theory and a lot of the really cool ideas I was exposed to into action. I made mock Facebook pages for novel characters with my 8th graders. I showed my middle schoolers the awesomeness of Prezi. We began a learning journey together and that's been my quest ever since and an idea that I try to instill in my faculty; Learning doesn't end with a diploma or a certification. It's a life long journey.
When my school hired a new principal a few years ago I got the chance to really grow. He had an open mind and a vision of 21st century learning for his students and asked me to come on board full time as an instructional integrationist.
This is my second year in this position and I'm finally starting to see the change I set out for in beginning. We've implemented a technology committee which helps me with research and development of tech initiatives, most notably our first 1:1 program using Chromebooks with a pilot roll out beginning next quarter.
The biggest shift has come from my teachers who have struggled with the idea of integrating tech for a long time. For example, The science teacher wanted to shake up our yearly science fair by adding choice for the students and turning the fair into an expo. The students could choose to present a scientific idea through experimentation, invention, through digital media or through art. The art teacher and I jumped right in and the kids went to work. It has been so enjoyable seeing what the students come up with and lending our knowledge to collaborate and focus in our there ideas.
The idea of choice is really something I would like to focus on for next school year, especially with the middle school. I would like to see my teachers implement the use of at least one social network into their daily lessons and marry that use with the students searching and sharing different ways of learning what is laid out in the curriculum. It would be interesting to see a math class collaborating on how best to learn a particular lesson and the. Sharing that information with another class. Or in history, the students searching out media clips to augment what they are learning through the text.
Learning is my passion and my quest is to help others find a way they love to learn.